Stylus Solution Enables Easier, Safer Medication Dispensing
NHS workers needed help fast, TouchPoint Medical Responded.
By Catherine Pollard
When COVID-19 hit, our National Health Service workers here at Glan Clwyd Hospital (GCH) in Wales found themselves taking extra steps to ensure maximum protection for themselves and their patients, like donning two pairs of gloves. Amidst the shortage of personal protective equipment (PPE), our staff members make do with any available gloves, which often means the gloves that they were using ended up being very awkward, ill-fitting, and bulky. It quickly became an even more concerning problem, however, as the double layers made our staff's use of touchscreens more cumbersome, slowed down the process of accessing medications, and made their typing on the touchscreen less accurate and reliable. The problem was critical as not being able to seamlessly interact with the hospital's automated dispensing system — Medi365 (TouchPoint Medical) — was hampering the ability to gain access to critical medication that was urgently needed for patients in the intensive care unit.
Staff members soon found themselves resorting to the less than desirable workaround of leaving the drawers of the medication storage system open at all times so that they knew they could gain faster access to items required. But this created a different set of concerns as those of us in the pharmacy were then unable to track inventory that was being removed from the already opened drawers. I became seriously concerned about the possibility of wards running out of these critical medicines, leading to a potentially greater crisis. Without the usual automated inventory monitoring, pharmacy staff were forced to physically go on the ward to check supplies, potentially risking their exposure to the virus, plus it required that they use additional PPE that was already in short supply.
I also worried about the possibility of staff being injured by the open drawers being in the way, the drawers coming out altogether and spilling their contents, or becoming broken during the rush. This entire situation became untenable and was also creating significant anxiety, adding to the overall stress for the staff as they were focused on caring for large numbers of seriously ill patients in an increasingly more tense circumstance. It was a mounting problem that could not continue and needed to be remedied at once. I asked the system's manufacturer for help. Together, we sought to find a method that would allow staff to continue to execute fast, safe, and efficient medication retrieval within the crisis environment of the pandemic.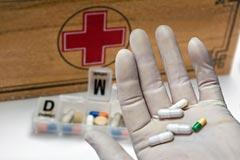 Fortunately, I was able to get the GCH leadership and TouchPoint Medical to collaborate with me to brainstorm a better approach. Our team was impressed with the manufacturers' responsiveness, their understanding of the hurdle we were facing, and their willingness to work on customising an answer that would address our need. With a profound sense of urgency, TouchPoint sprang into action and delivered a solution. After a few iterations of potential set-ups, the final design was arrived upon. TouchPoint Medical ultimately provided a stylus to be implemented with the touch screen that would still accommodate the staff's wearing necessary PPE, while at the same time ensuring accuracy when making selections on the screen. With teamwork, and by accelerating some of the usual GCH processes due to the critical nature of the situation, five days later we had a stylus adapted to the Medi365 medication cabinets in use on our urgent care wards.
Our health care workers remain extremely pleased with the stylus' performance and relieved to be able to use the medication dispensing system quickly and accurately. Certainly, our staff must remain in compliance with all safety precautions, so removing gloves at any time is not a viable option. Now with the stylus, the staff are protected, they know that they are ensuring the protection of their patients, and have confidence restored in their accurate and fast use of the Medi365. The stylus addition overcame the concern about potential delays in accessing urgently needed medications and allowed the pharmacy to continue to monitor critical inventory. Once again, the automated dispensing system is now working in the way it was intended and the safety of the staff and patients continues to be preserved.
Catherine Pollard is the Pharmacist Team Leader- Unscheduled Care, Glan Clwyd Hospital, Wales