workFLO® Roll Stands
workFLO® roll stands provide durable high stability mobilization of your medical equipment and hygienic products.
Convenient and efficient solution to deploy the necessary PPE throughout your facility.

LEARN MORE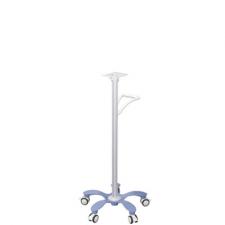 Easily mount your medical device equipment to this stable roll stand. 

LEARN MORE
Why Choose TouchPoint Medical for your Roll Stands?
workFLO® roll stands helps deliver better patient experiences through its streamlined and easy-to-maneuver design that make transporting high value medical monitors and hygienic products easy and worry-free.
Highly Flexible & Adaptable
workFLO™ roll stands are designed to accommodate a range of clinical applications with an array of accessories.
workFLO™  roll stands can accommodate a range of mounted equipment via our slide plate mount. Alternative required mount styles can be discussed and customized with your local representative.
Customize your roll stand with accessories and receive a configure design instantly with our product configurator.
Cleaner by Design
Antimicrobial treated surfaces remain cleaner and are protected against the proliferation of degrading bacteria.
Antimicrobial protection is infused into the surfaces and handles rather than topically applied, to ensure long-term protection.
Mobilize Equipment with Ease
workFLO™ roll stands are designed to reliably mobilize your valuable medical equipment and supplies with confidence.
Adjustable height handle allows for more ergonomic maneuvering of equipment.
Mobilize equipment and supplies up to 33lbs (15kgs) with a light-weight yet stable design.
Carts wheelbase allow for nesting of multiple units to be stored for future use while minimizing the space required.
Security & Stability
workFLO™ is thoughtfully designed to give you peace of mind with security and safety features as you move your equipment around all day.
Easy and secure mounting of medical device equipment and supplies.
Highly stable wheelbase design with directional and locking casters for added peace of mind while moving the cart or using at a stationary location.
Unmatched Customer Support
We are here to answer your questions and provide you with the right solution to meet your clinical needs. Whether you need technical support, additional product information or need quotes for new products, our teams are ready to help you 24/7. Contact us and we will be ready to help you with what your needs may be.