Pharmacy Solutions
Get everything your pharmacy needs in an automated medication dispensing cabinet and nothing that you don't.
Common Medication Dispensing Models
Safe and efficient medication management means that each patient's touch point is optimized for the highest level of care. TouchPoint Medical's line of medication dispensing solutions offers your pharmacy and healthcare team everything they need, and nothing that they don't in a cost-effective, performance-driven package.
Be Optimized for the Highest Levels of Patient Care with Automated Medication Dispensing.
Secure and accurate medication management systems and medical technology solutions enable more meaningful, conscientious interactions between patients and care teams. So as the role of the pharmacy team expands, reliable solutions allow you to spend less time on automation equipment and more time on patient encounters. The medDispense® automated dispensing cabinets have one software platform and countless hardware configurations all working together to give you safer and more efficient automation across your clinical workflow. They are a scalable solution that can grow to meet your changing needs, offer the best and highest level of security for controlled substance storage, and come with superior service. The medDispense® ADC series is simply affordable, priced to fit almost any budget, and offers everything you need but nothing that you don't.
medDispense® C series Automated Dispensing Cabinets
Pair with Other Products for the Perfect Solution
Manage and Maintain Your Facility's Automated Dispensing Cabinets from Any PC.
The PharmacyCenter™ module gives the pharmacy the ability to manage medication across multiple medDispense® cabinets from one easy-to-use dashboard and reporting system. You can now create reports on key metrics that matter to your facility, configure inventory, view discrepancies, and more in a few easy keystrokes PharmacyCenter™ gives you visibility and management of your inventory across all cabinets so you can manage low and out of stock items, define specific storage locations for each medication or inventory item and add, delete or modify a medication for a specific cabinet.
Inventory Management Dashboard
Dispense Your Medication
Remote Medication Queuing Reduces Waiting Lines for Nurses at the ADC.
The NurSync™ module enables nurses to reduce time spent at the dispensing cabinet station and increase time spent with patients. When they remotely que medications from their approved workstations it eliminates the need to for multiple trips back and forth to the automated medication dispensing cabinets. Nurses can create medication queues to help reduce medication retrieval times, create a more efficient workflow, and spend more time focusing on patient outcomes.
Inventory Management Dashboard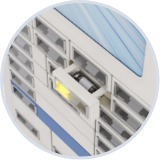 Dispense Your Medication
See how TouchPoint Medical can equip your facility and team for optimal pharmacy care.