TouchPoint Medical partners with medical technology and healthcare providers around the world to develop innovative healthcare solutions. We maintain a customer-driven mindset to help enable a safe and efficient delivery of medical technology, information technology and medication management. Together, we drive operational and customer excellence. 
GET IN TOUCH
GET OUR NEWSLETTER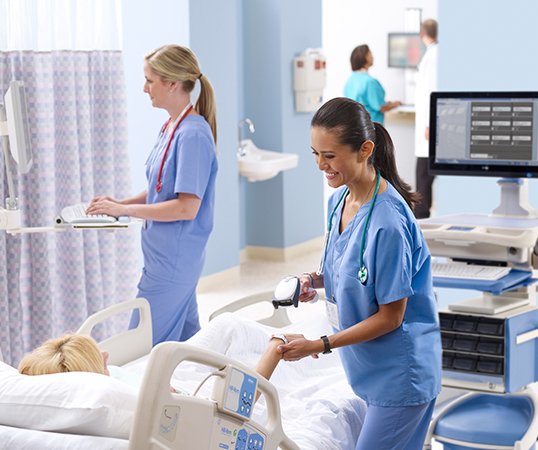 HEALTHCARE WORKSTATIONS DESIGNED WITH YOU IN MIND
Ergonomically designed to prevent strains, sprains, and work-related musculoskeletal injuries.
Antimicrobial surfaces to reduce microbial infections.
Stable maneuverability makes moving workstations from patient to patient easier and more efficient.
Corrosion-resistant finishes extend the lifespan of your workstations.
Mobile or stationary workstation options via carts and mounting systems make it easy to customize your environment.
There is no better way to show your nurses how much you care than by protecting them from unnecessary health strains and improving working conditions. TouchPoint Medical makes showing you care simple with our easy-to-use, ergonomically designed, secure workstation solutions created specifically for the departments within your healthcare facility.
MEDICATION MANAGEMENT CABINETS & WORKSTATIONS DESIGNED FOR PEACE OF MIND
Secure storage to prevent drug diversion.
One software platform across all hardware to ensure proper medication inventory control.
Supports centralized or decentralized medication fill workflow to meet your healthcare facility needs.
Secure & track patient medication to ensure patients receive proper medication prescribed by doctors.
Scalable to expand and flex with your needs to accommodate future healthcare facility growth.
Being efficient in the pharmacy allows you to focus on more impactful work.  With TouchPoint Medical automated dispensing products, pharmacists and technicians can spend less time on stocking, tracking and delivering medication and more time on activities that have a positive impact on their patients and the communities that they serve.  With everything you need and nothing that you don't, these cabinets are affordable, customizable and easy to use in just about any environment.  
Why Choose TouchPoint Medical
TouchPoint Medical offers customizable healthcare solutions designed so that your staff can provide exceptional care without loosing the human touch. We understand the importance of ensuring your workstations, carts and cabinets are designed to give your nurses quick and easy access proper equipment, medications and supplies while providing an ergonomically designed environment for employee satisfaction. When caregivers can efficiently do their job, patient outcomes improve.
Knowledgeable & Engaged - Global experience with medication management and bedside solutions.
Service Oriented - We know that all healthcare requirements are not the same and will work to deliver the solution that meets your needs.
Quality Driven - We design, manufacture, sell and support our products to ISO 13485:2016 standards