TouchPoint Medical is the strategic partner of global medical technology for healthcare providers seeking ways to improve patient access, care and outcomes. We adopt a customer-centric approach, facilitating safe and proficient medical and information technology deployment, along with optimized medication management. Together, we develop operational excellence that propels us for long-term success — We're in it with you.
CONNECT WITH US
SUBSCRIBE TO OUR NEWSLETTER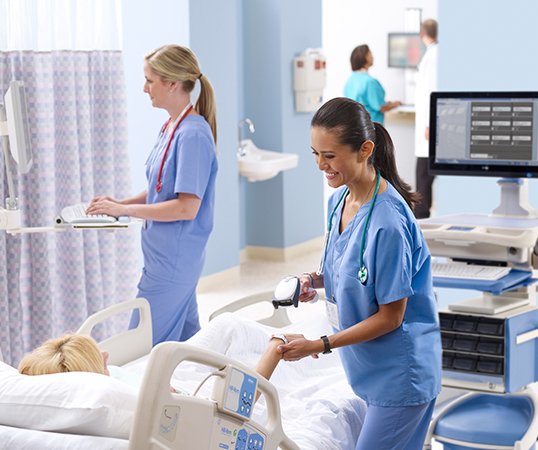 HEALTHCARE WORKSTATIONS DESIGNED WITH YOU IN MIND
Ergonomically designed to prevent strains, sprains, and work-related musculoskeletal injuries.
Antimicrobial surfaces to reduce microbial infections.
Stable maneuverability makes moving workstations from patient to patient easier and more efficient.
Corrosion-resistant finishes extend the lifespan of your workstations.
Our workstations and mounting systems, mobile or stationary, enable you to customize your workspace as desired.
Show your nurses you care by protecting them from unnecessary health strains and enhancing their work conditions. TouchPoint Medical offers ergonomically designed, secure workstation solutions that simplify the process. We tailor our robust, customizable products to your healthcare facility's needs.
MEDICATION MANAGEMENT CABINETS & WORKSTATIONS DESIGNED FOR CONFIDENT CARE
Secure storage to prevent drug diversion.
One software platform across all hardware enables precise medication inventory control.
Flexible configuration for centralized or decentralized medication fill workflow adapting to your healthcare facility needs.
Secure & track patient medication to guarantee patients receive proper medication prescribed by doctors.
Scalable to expand and flex with your needs to accommodate future healthcare facility growth.
Maximize your pharmacy efficiency with TouchPoint Medical's solutions designed for the pharmacy. Focus on impactful work, reducing burnout and turnover while spending less time stocking, tracking, and delivering medication. Empower your team to nurture patients and serve your community with our easy-to-use and customizable cabinets, carts and mounts. We provide the optimal blend of cost-effectiveness and performance, providing long-lasting value for your facility's pharmacy and medication management operations.
Why Choose TouchPoint Medical
TouchPoint Medical delivers customizable healthcare solutions that keep the human touch at the point of care. We design workstations, medical carts, mounting systems and medication dispensing cabinets for easy access to proper equipment, medication, and supplies, all while cultivating a work environment for increased employee satisfaction. With TouchPoint Medical's implementation and support, we empower uninterrupted care, boost patient outcomes, and unlock your team's highest potential.
Experienced - Global experience with medication management and bedside solutions.
Service Oriented - We understand that every healthcare need is unique and are committed to providing solutions tailored to your requirements.
Quality Driven - We design, manufacture, sell and support our products to ISO 13485:2016 standards.