Workstation-On-Wheels Rollout Success – Partnership is Key
Success in rollout and operation of a Workstation-On-Wheels (WOW) fleet can easily become a formidable goal for a healthcare facility, especially when it involves a large-scale deployment in a system that's constantly challenged by the CoVid-19 pandemic.
While it impacts the health and welfare of many, a WOW fleet rollout, consisting of medication management solutions and point-of-care solutions, requires a substantial investment of money, time, manpower, and other resources.
Even before one can ably deploy and integrate it, several factors merit careful consideration.
Some of which include the healthcare facility's goals and productivity targets, workflow aspects that require streamlining, budget allocation and scheduling, technology requirements, area preparation and adjustment prior delivery, skilled and reliable support and vendor coordination, provision for maintenance, warranties, field-upgradable options, and other important considerations geared toward optimizing one's investment, safety, and efficiency at work.
It goes without saying, therefore, that finding the right solutions provider - one that will step up and address these concerns, discern growth areas, and anticipate bottlenecks - is key to a successful rollout.
Understandably, a long-term partnership built on trust and confidence between client and solutions provider is a worthy goal, and, since both should expect a long journey ahead, it would be wise to partner with a supplier that's onboard every step of the way.
Lastly, if skilled, agile, and available support is never lacking from the project partner, one is assured of a better state of mind, not having to worry about untoward events happening on go-live dates and onward.
In a nutshell, a solid partnership is crucial to success of a Workstation-On-Wheels rollout, and, based on our experience, here are four things you must be keen on in the hunt for a supply partner: Expertise and Track Record, Ability to Customize; Turn-Key Deployment Capability, and End-To-End Support.
EXPERTISE & TRACK RECORD
Be on the lookout for industry experts. Do your research and due diligence.
Proven competence and track record are always good baselines. Surely, once can intelligently infer from customer reviews, testimonials, and creditable online references.
Besides, shortlisting the experts from the supply pool shouldn't be too difficult since reputation often precedes these game-changers.
While efficiency is crucial and timeliness, vital, when it comes to healthcare, putting a premium on a supplier's knowledge and experience increases the chances of your investing in a good product – one that matches your budget, productivity and service requirements - while also minimizing risks, costs, and similar undesirables.
In the case of TouchPoint Medical, the company boasts of a global presence, with headquarters in Odessa, Florida, and established locations in other US states and countries for customer and technical support, manufacturing, account management, value-added reselling and distribution network.
This extensive coverage enables timely and responsive customer service, product deployment, and technical support.
TouchPoint Medical also partnered with thousands of healthcare facilities all over the world, delivering and managing customized solutions that enable a safe, secure, adaptable, ergonomically smart, support-backed, and efficient healthcare systems.
Just recently, a five-man team from the company completed a 155 Workstation-On-Wheels rollout at a 348-bed healthcare facility - in a span of five days.
"Clients often remark on our professionalism and complete understanding of our products," TouchPoint Medical Field Service Engineer Denise Byrd shared.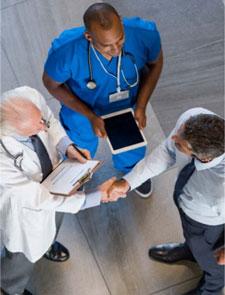 ABILITY TO DESIGN BESPOKE, AGILE, & SMART SOLUTIONS
Successful integration of the Workstation-On-Wheels is founded on keen understanding, precision planning, and constant interface between client and solutions provider.
During such interchange, every aspect of the process is mindfully explored, answering questions such as how else can the WOWs' functionality be optimized beyond interface with electronic medical records and delivery of timely results, what needs must be taken seriously in order to maximize productivity and efficiency, how nimble must the Workstation-On-Wheels system be in the given work spaces, what storage and connectivity requirements have to be in place to optimize performance, how much internal tech support should figure in the budget, what about ergonomics, medication safety, and CoVid-19 considerations, how much back-up power is needed, is remote care enabled, and how can downtimes and maintenance costs be minimized.
Through these brainstorm sessions, the solutions provider designs an effective bundle of solutions while ensuring seamless integration and consistent operational excellence.
With TouchPoint Medical, commissioned teams do all that and more. From the moment the teams are deployed, they immerse themselves in the system in order to acutely observe, understand, and customize the right solutions.
Clients are also assured of having almost all aspects of their Workstation-on-Wheels rollout tailor-fit to their current requirements, including brackets, fabrications, and other engineering needs.
TouchPoint Medical also enlists third-party experts to resolve issues in the workflow and even goes a step ahead by designing solutions to potential problems that may arise.
Alternately, its teams are in constant communication with the client's facility directors, informatics staff, and nursing heads to ascertain that all are on the same page, and that, prior to going live, all bases have been covered.
"TouchPoint Medical does whatever it takes to meet our customer's needs and those needs are always changing," TouchPoint Medical Area Sales Manager Jeff Morales said, "We work with our customers any way we can."
END-TO-END SERVICE
An integrated solutions package, backed by support teams that know every aspect of the project and have been involved in every stage of the process - from project commission to the end of the productive cycle - is always a good investment. 
With TouchPoint Medical, project knowledge and anticipation are non-negotiable.
Before going live with its Workstation-On-Wheels fleet, its service teams will have rolled up their sleeves to ensure that no surprises are forthcoming on the target date.
The WOW system interfaces will also have been individualized with remote and onsite support on deck to assist.
Some of its enhanced services include onsite IT support and PC integration, user trainings, old machine recycling options, unpacking systems, product packaging dispositions, and as earlier mentioned, potential problem detection and troubleshooting.
TouchPoint Medical also offers service programs that aim to reduce downtime and maintenance costs so that the client's in-house support staff can focus on their internal needs.
"Our clients trust us to provide reliable service, and we are familiar with their facilities and the systems," Engineer Byrd said.
TURNKEY DEPLOYMENT
Nothing beats a fully integrated smart solution that's up and ready to assimilate into your workflow.
TouchPoint Medical offers a BlueCHIP Certified Hardware Integration Program that enables the WOWs to deploy as soon as they arrive onsite.
Pre-programmed integration of computer and peripherals, in accord with Intertek ISO certification standards, enables turn-key solutions upon Workstation-On-Wheels rollout.
These also come with two-year warranties, multi-vendor support, certified medical grade UL 60601-1, and BatteryPro Monitoring Software.
There's an option to purchase this equipment through TouchPoint Medical in case you prefer not to be bothered with it.
To ensure timely and correct product deliveries, TouchPoint Medical keeps track of freight and shipping schedules and they'll be present as soon as the Workstation-On-Wheels arrive to unload the equipment, assemble them, and oversee proper disposition of packing materials.
If arranged, they can, likewise, dispose of any of your old equipment or accessory, in compliance with security and safety regulations.
Plus, clients will be offered training modules for proper turnover with an option to avail of continued education should they opt for it.
"For us, it is all about customer satisfaction," Engineer Byrd said, "We are proud of our professionalism and the praise that we receive for our truly customer-centric ethos."