Case Study Parkview Hospital Medication Management Solutions
There are so many advantages of having easy access to medication. Nurses become more efficient at administering medicine, while the pharmacy is less likely to encounter any errors when dispensing medication. It also helps in accurate record-keeping and tracking of inventory.
Automatic Dispensing Cabinets (ADCs) go beyond a step further by integrating more features. By including patient-specific profiles with their individual medicine compartments, administering medication becomes more efficient.
The Institute of Safe Medication Practices (ISMP) released new guidelines for using ADCs regarding patient-specific profiles. Only a pharmacist is allowed to verify or remove any other specific information on medication. If not followed thoroughly, the nurse could be administering the drug to the patient incorrectly.
There are additional features that ADCs can provide to ensure patient safety upon administering medication:
scanning of medication barcodes during cabinet restocking
integration of the dispensing data into the automated medication refilling systems
approved drug safety alerts
decision support when selecting medications
All of these are only available at reliable ADCs with the latest technology.
"Ease of Use With Limited Downtime"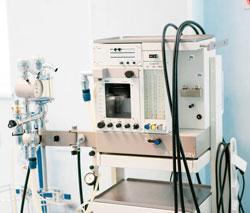 In El Reno, Oklahoma, a 16-bed inpatient facility with a 5-bed ER had a medication storage solution, which provided their daily needs. However, system upgrade requirements were an additional cost that left the supervisors at the Parkview Hospital baffled and eager for a better solution.
When demonstrated with one of the modern ADCs from TouchPoint Medical, Parkview Hospital decided to proceed with the product. They complimented the equipment saying that the setup was pretty seamless with limited downtime. One of the officers also added that their nursing staff had adapted quickly to the equipment without needing to go under a long training period. It is intuitive to use, they said.
With the help of the Parkview Hospital's IT, TouchPoint was able to complete the setup process of the new ADCs. Surprisingly, the feedback from the nurses was positive. Minor hiccups — which they expected as they were starting to learn a new system—were resolved quickly. Additionally, the officers commended TouchPoints customer support for meeting their expectations.
The hospital believes that the new ADCs provided by TouchPoint Medical greatly suit their needs. Easier reporting and medication stocking have also proved to be of great help to the pharmacy technician.
"Secure and Efficient Solution"
The software that powers TouchPoint Medical's ADCs allows for more efficient automation and workflow.
There are different variants of Automatic Dispensing Cabinets available for any facility. Each ADC model has an expansive range of interchangeable dispensing hardware. Also equipped in each ADC are essential features such as:
Single-Dose Dispensing
Bulk Storage
Progressive Drawer Access
Pick-to-Light Guidance Technology
Steel Construction
Single-Item Control
Utilizing ADCs from TouchPoint Medical will also give you key benefits such as:
Controlled Substance Inventory Management
Using a Single Platform Across All Hardware
The Flexibility to Meet the Facility's Needs
Numerous Secure Configurations
Antimicrobial Protection
HL7 Interfacing
Remote Medication Queuing
TouchPoint Medical's ADCs reduce the risk of medication errors and provide secure storage with proper safeguards. The equipment ensures that all medications are in a controlled, locked environment that requires specific credentials before release. The pharmacy has complete control over the inventory via the software, completing the safety and security measures for medication dispense.
Controlled substances are given additional security with single-dose dispensing through progressive steel drawers. Also included is the ability to add an optional witness signature for removal, waste, return, or override. Discrepancy tracking notifications protect against diversion.
The nurses and pharmacy staff will experience little to no issues working with the ADC's software. The software helps in establishing a more efficient workflow. A restocking process will close the loop in the inventory management of controlled substances. Additional features of the software include:
Pre-Counts
Configurable Patient Medication Profiles
Label Printing
Medication Searching
Remote Medication Queuing
Inventory Visibility
Intuitive User Interface
"Conclusion"
The security, visibility, and efficiency of the health care facility's medication management solutions are what drives us at TouchPoint Medical. With the help of Automated Dispensing Cabinets and Mobile Medication Dispensing Carts, TouchPoint Medical will provide any facility with the best solution for their needs.
If you're interested in booking for a free demonstration of the equipment, you may contact us here for more information.