Building the Right AIO Workstation – Checklist and Benefits
To be successful, hospitals and long-term care facilities must be ready and equipped to use medical computers in a variety of settings within their locations. One popular solution that has continued to gain momentum is the pairing of all-in-one computers (AIO) with mobile workstations. Part of the reason behind this trend is that when done right, these pairings can provide ergonomic and cost-effective solutions for nurses while rounding, charting, and administering care. It goes without saying that just any combination of cart and PC won't do. Careful consideration towards choosing the right equipment will ensure that everyone—including IT, nurses, and patients—benefits. 
The Necessity of Medical Grade Computers
Typical commercial desktops are often not appropriate for healthcare settings.  Decision makers should be sure to focus on medical grade models only. 
"Medical grade computers have gone through rigorous testing—you can't just buy a monitor off Amazon," said Greg Daurio, Vice President of Sales and Marketing at Cybernet. "Obviously, that increases the price tag compared to others, but the AIO and a nonpowered cart represent a turnkey solution." The low non-powered cart cost can offset the additional cost of an AIO, and still result in a total system that's significantly less expensive.
Certification
In order to qualify as a medical PC, computers must be UL/IEC60601-1 certified safe for use near patients. The manufacturer should provide documentation proving that all devices meet this international standard for electromagnetic and radiation emissions.
"All medical computers must be certified by the International Electronic Commission as safe to be near patients," said Daurio. "Protecting against surge, for example, and interference from any electromagnetic emissions. Such options do not exist on commercial-grade desktops. Medical computers are also sealed for cleaning, so they can be totally wiped down with hospital-grade disinfectant. Plus, all surfaces of these computers are antimicrobial."
IP65 certification is also important because it denotes protection against liquid and dust ingress, keeping internal components free from damage during disinfection and cleaning.
Antimicrobial
Users should look for medical-grade computers with antimicrobial properties. The best options use an antimicrobial agent that is integrated into the resin during the manufacturing process and will protect it forever. Less desirable options have an antimicrobial coating applied after manufacturing.  These coatings degrade over time.
Fanless/Noiseless
No fan means less chance for mechanical failure of moving parts. Without moving fan parts, the computer will not stir up dust and pathogens in the air around patients. Fanless AIO computers run silently, ensuring patients are not disturbed by an annoying hum. Fanless AIO computers are also vibration resistant and made to withstand shaking.  This is important for a mobile cart application.  They use less power than regular commercial computers and run cooler, dissipating heat passively. And of course, they do all of this while still incorporating processors powerful enough to run complex medical applications 24/7.
Customizable
AIO medical computers feature ports and expansion slots that enable integration with nearly any device.
"The AIO saves IT and nurses a lot of hassles," said Daurio. "Before, on the cart, you would have the computer, and need to plug in an RFID reader/fingerprint scanner for HIPAA requiring two-factor authentication.  This leads to extra dongles hanging off the computer.  Those get lost and broken."
The AIO can include integrated barcode scanners, RFID readers, and fingerprint scanner secure logins, as well as additional functionality without the need for third-party dongles, or peripherals.
"The AIO solution removes many of the third-party accessories, so no more dealing with multiple vendors. A driving force behind the move to AIO technology is that it streamlines the workflow," Daurio said.
- Single sign-on
- Clinical efficiency and streamlined authentication
- Integrated authentications and RFID/badge tap
- IR camera facial recognition
- Fingerprint reader
- Track fleet/analyze system
Medical Computer Checklist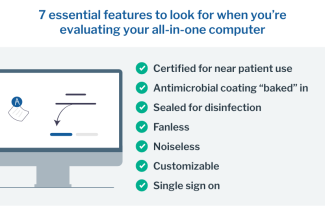 Here are the seven essential features to look for when evaluating an all-in-one computer:
- Certified for near-patient use UL/IEC 60601-1 Certified/ EN/IEC 60601-1-2 technical standards/ IP65 rating
- Antimicrobial coating integral to the resin material  
- Sealed/non-degrading/waterproof for disinfection
- Fanless
- Noiseless
- Customizable
- Single sign-on
Choosing the Right Cart
Along with their high cost, powered carts are usually quite heavy, making them difficult for nurses to maneuver. In an already physically demanding job, nurses need not contend with equipment that puts them at risk for workplace injuries.  Nonpowered workstations on wheels paired with AIO computers can make for a streamlined, efficient, lightweight, and highly customizable solution. They're also more cost-effective than other options.  Furthermore, there are many battery-powered features on an AIO that also make powered carts unnecessary.
TouchPoint Medical workFLO Single Monitor Workstation is a height-adjustable single monitor/AIO computer workstation on wheels that offers lightweight mobility. This model's streamlined design and directional tracking casters create an easy-to-move workstation that can be put in motion, go around corners, change directions and traverse all types of floors with minimal effort.
Wide-set wheels and 5-inch casters maintain stability even over thresholds and varying surfaces. The workstation also features keyed access for security.
Touchpoint Medical offers fully customizable solutions, with the ability to add or upgrade components as needed.
Workstation Checklist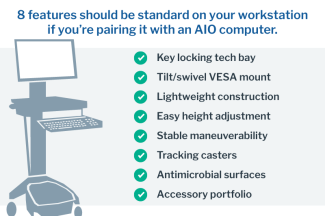 These 8 features should be standard on your workstation if you're planning on pairing it with an AIO computer.
- Key locking tech bay - universal key or optional key codes available
- Secure (no drift) positioning with tilt/swivel VESA 75/100 mount
- Lightweight construction
- Easy height adjustment - gas spring push button actuation
- Stable maneuverability
- Tracking caster for easy mobility
- Antimicrobial surfaces
- Accessory portfolio
Accessories
- VESA Mount
- Supportive technology peripherals: scanners, printers, e-signature pads, etc.
- Cup holder mounts
- Storage options: drawers, baskets, equipment shelves, supply bins, etc.
Facility-Wide Benefits
Nurses
The health, well-being, and overall job satisfaction of nurses today remain of crucial importance. When management actively cares for those who care for patients, everyone wins. Streamlined workstations that are comfortable to use, easy to move, and well-suited to the everyday demands of nursing answer the call for more ergonomic equipment. AIO computers combined with purposefully designed nonpowered carts are problem solvers for both nurses and IT alike.
IT
IT teams will find that integrating mobile AIO computers into existing systems is simple.
"The AIO and the nonpowered cart should be understood as a system, a turnkey opportunity," Daurio said. "IT managers are starting to see, together, it provides a full solution with cost savings to the facility. It improves workflow, it improves efficiency, the battery life's better, and nurses can get through an entire shift without having to plug their cart into a wall."
The combination of an AIO computer and a non-powered workstation eliminates worry and complication over adding hardware to support peripherals on the cart fleet for RFID readers and fingerprint scanners—a common pain point of IT departments.
Patients
When nurses have easier access to the tools they need to provide efficient, expert care, patients are happier, outcomes improve and satisfaction rates rise.  The reduction of workplace injuries thanks to more ergonomic workstation solutions also means that nurses miss fewer shifts, ensuring facilities are properly staffed to handle the needs of all patients quickly and compassionately.
What to Expect
Lighter, smaller, more nimble
With AIO computers gaining favor, facilities will continue to shift toward more nimble, non-powered carts. IT managers are recognizing more and more the benefits of this streamlined approach, recognizing that the cart and the computer must be considered together, not as separate entities.
Immediate and Long-Term Cost-Savings
On average, most facilities can expect to save anywhere from 10% to 30% on their initial purchase when choosing an AIO solution. Over five years, the total cost to own and operate could amount to 15% to 20% less. These savings along with the inherent patient/user benefits makes the AIO computer/non-powered cart combination an attractive choice for many environments.
"The appeal of combining AIO computers with nonpowered WOWs goes back to efficiency and empowering nurses to make their workflow better," said Daurio "We are not changing what they do or how they do it, we are making it easier."
AIO computers paired with nonpowered carts are complete turnkey solutions, and quite likely, where the industry is headed in terms of workstations.