Combating Supply Chain Disruptions as a Medical Manufacturer
As manufacturers of medical equipment, one of our priorities is to ensure timely delivery of the equipment and devices to our customers. However, global events and natural disasters like the Covid-19 pandemic are bound to disrupt the supply chain. Therefore, at TouchPoint Medical; we adopted several measures to deal with these events when they occur. One of our core strategies has been onshoring, which has helped us effectively manage supply chain disruptions.
Supply Chain Disruptions
Assessment of the risk in a supply chain starts with a list of external factors that can impact it.   Supply chains may be disrupted by cyber security threats, the financial viability of a vendor, geopolitical factors, man-made causes, and natural disasters like the Covid-19 pandemic.  Any of these can cause delays in the delivery of critical equipment or supplies and ultimately put patient care at risk.
According to McKinsey & Company, supply chain disruptions will on average cause a company loss equal to 45 percent of annual profits over a 10-year period. The medical devices industry is not spared, on average losing about 37.9 percent of annual profits over 10 years. The graph below demonstrates these losses by industry.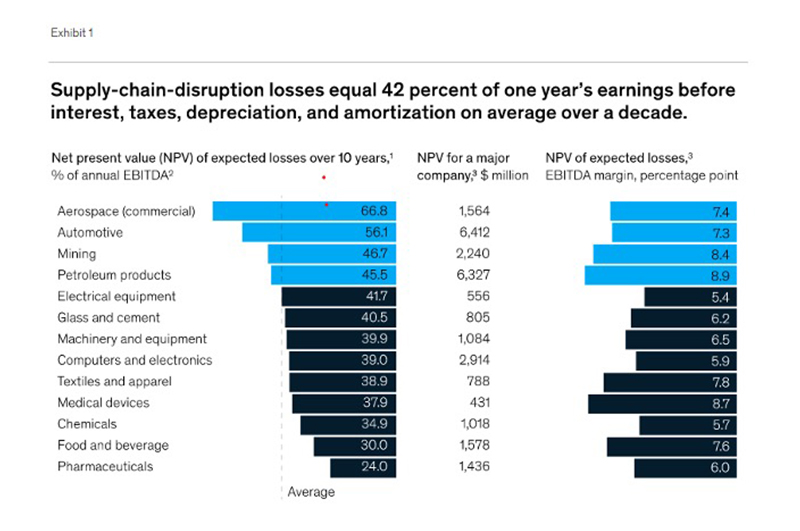 Source: McKinsey & Company,
We were fortunate to live through a long period without pandemics, major geopolitical instability, inflation, or extreme climate events.  But a supply chain manager can no longer treat these events as surprises or "black swan" events.  Risk reduction and scenario planning is a must. 
Impact of Covid-19 on Supply Chain
The Covid-19 pandemic has been monumentally disruptive to global supply chains. Restricted movement, lockdowns, and social distancing slowed or halted manufacturing activity and the movement of goods.  Local demand became impossible to predict as countries like China stopped the export of critical medical equipment, consumers stockpiled goods, and some companies completely over-purchased in a near panic.  These stressors exposed risks and inflexibility inherent in Asia-centric supply chains.  To better accommodate future crises and demand spikes, U.S. companies have shifted their focus to local production and sourcing.
As labor costs have risen in Asia, "re-shoring" was already a topic of discussion.  COVID-19 and a fresh look at supply chain risk have only made this strategy more attractive.  A Thomas Industrial Survey released in May 2020 indicated that 64 percent of US manufacturers report that they are likely to bring sourcing and manufacturing production back to North America.
Onshoring and Building Where the Demand is for Many Years
Ironically, many companies simply decided to hold more inventory to address the supply chain issues.  This is at best a short-term solution with several attendant limitations. Companies that hold more inventory tie up working capital unproductively, increase their operating costs, and run the risk of holding excess inventory as market demand drops.
Despite the clear disadvantages of holding more inventory, some companies feel stuck with this approach due to a shortage of expertise or the perception that investment onshore will be overwhelming.
Benefits of Onshoring
Organizations that decide to onshore their production stand to benefit from several efficiencies. Some of the main benefits include:
Response to Demand Changes: Removing a 4-6 week (or currently longer) ocean trip can make a substantial impact on speed and working capital.
Meeting Regulations: It can be easier to meet regulations at home than in foreign countries. Companies that decide to onshore may find it easier to meet quality standards, environmental or other local regulations relevant to their industries.
Easy to Manage Supply Chains: Regardless of our advances in digital communications, it is easier to collaborate with people and factories that you can meet face-to-face without having to cross an ocean.
Cost-effective: Although Asia used to provide much lower cost labor and materials, the rapid development of countries like India and China has raised wages and closed this gap.
Political Benefits: The U.S. and other governments have developed incentives and regulations to encourage production within their borders. Companies producing locally enjoy this protection.
Overall, onshoring has numerous advantages and is a more robust long-term strategy. In addition to the above benefits, onshoring has also made it possible for TouchPoint Medical to:
Reduce the risk of inventory shortages
Maintain a scalable network of domestic suppliers
Lower shipping costs, particularly for bulky goods
Reduce our impact on the environment
Reduce working capital bound up in the full supply chain
Leverage on-demand production
Reduce time-to-market
Minimize risks from start to finish
Challenges of Onshoring
Onshoring does come with challenges for the uninitiated. For companies that are new to this strategy, the shift can be arduous. You may pay higher wages.  Automation to offset this may require both capital and expertise.   As such, if you are looking to onshore, it is easier to use a company that already has an operational strategy to build products where demand is. TouchPoint Medical has used this approach for many years and is your right partner when looking for medical carts and medication dispensing cabinets.   
Conclusion
The future of onshoring for manufacturers looks bright. TouchPoint Medical has been able to capitalize on the opportunities that onshoring presents, and this is part of our mitigation strategies against supply chain disruptions. Throughout our 123-year history, we have been building products in the same region the demand has been. We are vertically integrated into CNC machining, powder coating, assembly, and sheet metal fabrication. Our supply of aluminum castings and injection-molded plastic is local.  Most important, we are a team of experts specializing in building world-class medical carts, medication dispensing cabinets, and support arms. Please contact TouchPoint Medical if you'd like to get aligned with industry experts that have a long-term operating strategy.